Product Update Category:
Bullhorn Version
Novo
S-Release
ATS & CRM
Automation
Bullhorn Analytics
Bullhorn One
Onboarding
Onboarding Talent Edition
Onboarding365
Time & Expense
VMS Sync
Bullhorn Release Rewind | Q1 2023
Check out our Bullhorn Release Rewind video for a recap of the most important product release updates from Q1 2023!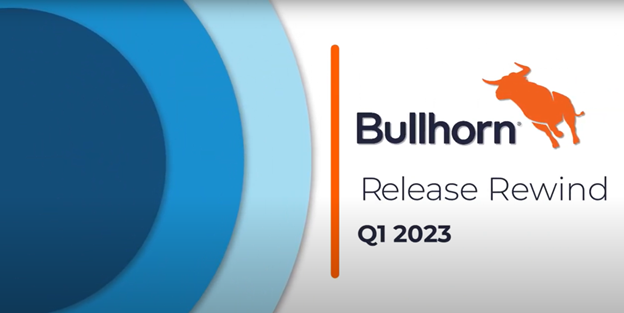 Saving Placement Change Requests
An issue was resolved that prevented placement change requests from saving.
Localize Candidate Submission Status Email Template
Two new system settings have been added to support the Job Submission Notification email. The settings can be used to support personalizing the email being sent or for sending the email in a language other than English. The system settings will respect merge fields so that users can ensure information specific to the Submission is included in the email. The new settings are JobSubmissionNotificationEmailSubjectLine and JobSubmissionNotificationEmailBody.
Text in Shift Fields Fully Visible in Scheduler & ATS
Users can now hover over a field in the Scheduler Configuration area to view that field's full name if that particular field's name is not fully visible.
Cloning a Shift Position
A user can now clone a shift position from one company and use it for multiple companies instead of having to create new shift positions.
Add Standard Columns for Shift List View in a Column View
Users now have the ability to view specific data points in mass for Shifts and Assignments using the new List View feature.
"You have unsaved changes" Warning Incorrectly Displayed on Placement Edit Tab
We resolved an issue where users have occasionally received a warning that they have had unsaved changes when navigating away from the Placement edit tab, even if there were no updates made.
Parse as Existing Does not Fire REST Triggers
Resolved an issue that caused the REST trigger to not function properly when on the "Parse as existing" screen.
Novo Upgraded to Angular 13
We are updating our Novo UI and its supporting novo-elements library to Angular 13.  This update allows us to continue offering a streamlined and consistent experience across Bullhorn's complete product portfolio.  This update includes both an Angular upgrade, as well as supporting typescript updates. You can find more details at novo-elements version 7 announcement.
These changes will only impact customers with 3rd party customizations, and partners that utilize the novo-elements library. There is no action needed for customers who do not have customizations.
Jobs Description Card not Displaying Non-English Description Field Name
We have resolved an issue that caused the description card on jobs to intermittently not pull the label/name of the description field for non-English locale settings.
Email Delegation Dropdown Updated to Show More Entries
When a recruiter sends an email to a candidate they can choose to send the email on behalf of any of their email delegations. Previously, we only displayed the first 15 entries from the email delegation field in User Settings, limiting what the user could select.

Novo
S-Release
ATS & CRM
Bullhorn One
SOAP Parse Resume Functionality Is Now Working
We resolved an issue where clients were not able to use SOAP Web Services APIs to parse candidate resumes into Bullhorn.
Novo
S-Release
ATS & CRM
Bullhorn One
Filtering onboardingStatus column
Users can now filter against multi word statuses from the Candidate or Placement lists on the 'Onboarding Status' column.
Novo
S-Release
ATS & CRM
Bullhorn One
Bullhorn ATS to eStaff365 Synch
We have resolved an issue that caused new users to not automatically sync from Bullhorn ATS to eStaff365. 
Novo
S-Release
ATS & CRM
Bullhorn One
French Accented Characters Show as Symbols
An update was made so that French accented characters will render properly within the fields list in Canvas. Users will be asked to republish the model upon accessing Canvas to see the changes.
Worker's Comp Codes Available in Drop-down
Expired workers compensation codes will no longer show in the drop-down.
Tearsheet Owner Filter
The Tearsheet Owner filter is now sticky and will not longer reset with the list is closed or refreshed.
Week Start Day on Date Picker
The issue of calendar date selectors not respecting the "Week Start Day" system setting has been resolved. 
Shift Time Display on Candidate Layout Card for Shift Assignment
An issue that caused the Shift Assignment card to display the wrong shift time for records that were added prior to the March release was resolved.
Field Visibility Under Scheduler Configuration
Shift Scheduler users can now hover over a field in the Scheduler configuration to view its full name if it is not fully visible.
Favorite Searches
Shift Scheduler now provides the ability for users to save and manage filtered searches as a favorite search. This feature simplifies the Shifts users' daily usage of the system and speeds up tasks they do regularly by allowing them to save their needed searches/views as favorites.
Canvas Reporting
Canvas now provides users with the ability to report on the Shift Scheduler for the following data points:
JobShift, JobShiftAssignment, JobShiftSubmission

Shift, ShiftPosition, Shift Type

Candidate (Shift availability and Shift preferences)
File Names
We have resolved an issue with attaching files to records that would sometimes cause the file name to not be properly populated when the user selected a file. 
State Picker Fields
The issue of fields with the edit type of "Novo: Picker:Text:State" only displaying states in the USA has been resolved.  Now states from all countries will be available when this edit type is used.
Read Only Distribution Lists
An issue that allowed users who were not owners of a read-only distribution list to remove records has been resolved.  Additionally a new User Type Entitlement, "Edit Read-Only Distribution List",  has been added so users who need to be able to manage the lists are granted access to do so. Please contact support if you need this entitlement enabled.