Month:
September 2022
Product update notes, links, and descriptions.
Language
We've added two new language settings for Onboarding, English (UK), and English (Ireland). 

Support for Onboardings in the UK and Ireland
We now support initiating Onboardings for clients in the UK and Ireland. With this change we've updated several areas of the application for users in the UK and or Ireland.
Underprivileged Users ability to Delete HR Uploaded Files
Resolved an issue that granted users, who normally wouldn't have access, the ability to delete HR uploaded files associated with an Onboarding document.
Onboardings showing OTH as Country on Profile bug fix
Onboardings effected by a previous bug that caused the profile page to show Onboarding country as OTH were not able to be edited. We've resolved that issue and these Onboardings can now be edited.
SOAP GetEmployee Language Fix
In a previous release we introduced an unintentional change to the SOAP GetEmployee response, specifically how it returned the language value of an Onboarding. We've reverted this change and the GetEmployee SOAP response will now return language values as it did in the past.
Direct Deposit form Address field validation
We've added validation on all Bank Address fields for the United States and Canadian Direct Deposit forms. When a user attempts to save a Direct Deposit form with an invalid character(s) in a Bank Address field the user will receive an error prompt stating "Address contains invalid character/s" and will be unable to save the document until the invalid characters are removed. This applies to both the Desktop and Mobile version of the application.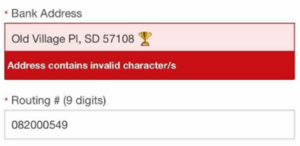 Attachments
VMS Sync now supports VectorVMS req attachments. VMS files are expected to deliver to the ATS, as they contain additional job details or forms required for candidate submission.
Processing Reqs
VMS Sync has updated our authentication method for MyWorkDay, and is now processing new and updated reqs as expected.
Add Position Attachments to ATS
We restored attachment upload functionality for Dotstaff reqs. All documents present on a VMS req are expected to attach to the corresponding ATS Job.
Reqs Status
Due to a Beeline UI update, Sync was only processing Open Beeline reqs for delivery. Sync has been updated and now successfully processes Beeline reqs in any status for timely and accurate ATS Job updates.
HealthReport – Peoplefluent / VectorVms getReq 60% fail
A Hotfix was released to restore Vector/PeopleFluent req delivery.
Health Report – COVENDIS – getReq 100%
Covendis login error messages are now displayed on the VMS Sync credential. This gives users more insight into why positions aren't delivering to the ATS, and provides them with clear resolution instructions.
Health Report – CNET – getReqList 100%
Updated Position List URL for CNET logins to process positions successfully.
Staffbot VMS Update ReqID
Sync now supports Staffbot's new reqID format.
Bluesky | Req Link routing to list view of VMS
Clicking the Req Link on BlueSky positions no longer navigates to the VMS requisition list view. This allows users to quickly view req details in the VMS without searching by Req ID.
Beeline Multi Buyer Tenant Feature Flag
Added Credential feature flag for multi-tenant Beeline logins. This lets VMS Sync process reqs from all buyers present in a single Beeline login. 
Beeline getReq/getReqList | Multi Buyer Tenant Feature Failing to Process some Positions
VMS Sync now processes all positions for Beeline logins with multiple buyers. This lets users consolidate access to reqs from multiple Beeline buyers under a single login, eliminating the need to create unique credentials for each buyer.
Bullhorn One
Time & Expense
Support Units and Dollars Entry in Group Timesheets
We enhanced the hours per day view in group timesheets to allow for entry of units and dollars adjustments.
Bullhorn One
Time & Expense
Social Security Number Usage
To better secure our customers' data, Bullhorn is making changes to the platform that will prevent SSNs being uploaded insecurely by customers. In the past, some customers have chosen to manually add SSNs to employee records for unique identification. Over the next several weeks, Bullhorn will now replace such actions with random numbers to better protect the employee data of customers.
Novo
ATS & CRM
Bullhorn One
Job Submission Display Values
The Job Submission edit screen will now correctly show the display value that is configured in field maps for the Status drop down field.
Novo
ATS & CRM
Bullhorn One
"referralfee" and "referralFeeType" Fields on Placement Change Requests
We resolved an issue that caused the field 'referralFee' to not display on a Placement Change Request.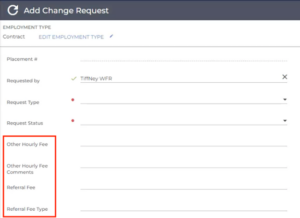 SEEK Duplicate Web Responses with Timeout Error (APAC Only)
An issue was resolved that was causing duplicate web responses when the server timed out.
Preview of SEEK Published Job (APAC Only)
Jobs can now be viewed with a Preview button before they are published.
Key Selling Points (APAC Only)
An issue was resolved and Key Selling Points can now be viewed on the SEEK list view.
Job Description (APAC Only)
An issue was resolved and the Summary field will now be used for the job description when a job is published.