Month:
February 2018
Product update notes, links, and descriptions.
VMS Timesheet Hours
An update has been made to improve the rounding process used for calculating hours on VMS/Group timesheets.
Document History
The document history now appropriately indicates when a document has been cleared.
Bullhorn Community is Now Available!
The new Bullhorn Community brings together Bullhorn events, the Resource Center, and the Bullhorn Customer Portal into one site. Whether you need to find the latest release notes, search for a support article, or want to find out about the latest free webinar, you can find what you're looking for by selecting the Help link in the top right of your Bullhorn.
You can also visit http://help.bullhorn.com directly and log in with your Bullhorn login. Please note that we are rolling out access to this site over the entire month of February so you may not have access immediately.
Updated SOAP to Opt New Candidates In of SMS by Default
The SOAP API has been updated so that new candidates who are added to the ATS via SOAP are opted into SMS text messaging by default. Candidates wishing to opt out can send a text message reply to remove themselves from the messaging service.
Ability to Delete Placements with Change Requests
Users can now delete placements that have associated change requests.
Mass Add Note From Record List
Users will no longer experience time outs when mass adding notes from the record lists.
Housing Complex Search on Text Block
We have updated custom text blocks on the Housing Complex entity to support search and filtering in the List View.
Merge PDF Supports Special Characters
Merge PDF now successfully combines documents into a PDF when the document title contains special characters.
Additional Housing Complex Text Fields Added to Canvas
The 15 new custom text fields to the Housing Complex entity are also available in Canvas for reporting.
Updated SEEK Integration to Hide Recruiter's Information
SEEK integration has been updated so recruiter's personal data is not published with the job posting.
Additional Text Fields Added to Housing Complex
15 new custom text fields have been added to the Housing Complex entity.
Contacts displaying with Department Dropdown
When selecting a department from the owner drop down on a contact record, all applicable contacts will now display.
Features Supporting General Data Protection Regulation (GDPR) Requirements
Export Candidate Emails: A new menu action to export candidate emails has been added to easily export all emails sent by the candidate to a CSV.
Anonymization of Candidate Linked Records: When a candidate is anonymized, all linked entities with sensitive data will also be anonymized. This will remove a candidate's edit history, emails, linked contact (if exists), and associations.
NOTE: These feature will not be turned on automatically; Bullhorn Support will work with customers to activate them.
Replicating Placement workersCompRateID, Placement reportedMargin, and Job workersCompRateID in Data Mirror
Data Mirror now syncs all data from workersCompRateID (Placement), reportedMargin, and workersCompRateID (Job).
Legacy Credentialing fields now searchable
Customers that upgraded from Legacy Credentialing to the new credentialing functionality can now search for legacy credentials.
Bullhorn Back Office (BBO) in Canvas
We're excited to announce that BBO in Canvas is now generally available. Understand the health of your business and value of your relationships by reporting on key BBO data in the front office via Canvas. You must have both BBO and Canvas to request this feature. If you're interested, please reach out to Bullhorn Support.
Submit Candidate to Job from Add Candidate Page
The add candidate page now allows you to submit a candidate to a job upon creation.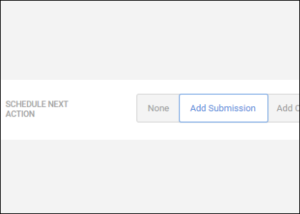 Skills Display Values Alphabetically on Overview
You will now see skills on the candidate overview in alphabetical order.
Execute REST Form Triggers on Custom Objects
You can now execute REST form triggers when adding or editing Tabbed and Overview Custom Objects.
ID Column Added to Company Jobs Activity
The jobs activity section on company records now displays the job ID. With this addition you will be able to sort, filter, and open records by the job ID.
Added a Country
El Salvador has been added as a value to the Country value list.
Note Formatting Added to Add/Edit Note Templates
Formatting can now be added to Note Templates.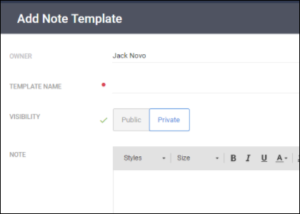 Note: Templates created with formatting in Novo will not be backwards compatible with S-Release.
"Enter Valid Email" Pops Up When Emailing Someone with a Valid Email Address
When emailing a record from the list view, the "Enter valid email" pop up will only appear if a record doesn't have a valid email address.
Email Preview Slideout Close Button Does Not Display
The preview slideout close button now appears when viewing emails with longer subjects.
Error When Opening Records from List After Loading More Than 300 Records
You may now opening a record after scrolling down a list and loading more than 300 records without error.