Month:
May 2017
Product update notes, links, and descriptions.
Mass Mailing Warning Issue
An issue has been identified where when you attempt to send a mass mail using personalization tags, you would receive a warning stating that personalization tags are only to be used with Mass Mailing. This warning should only appear when attempting to send a non-mass mail with personalization tags. This issue has been resolved and the warning only appears for normal mail.
Organizational Charts Now Available
Org Charts are now available within Bullhorn Novo.
System Settings Updated
An issue has been identified where two existing system settings were not being respected in Bullhorn Novo. This issue has been resolved and the attributes are now being respected.
The system settings are:
Auto Generate Notes From Submission Comments
Expand All Notes By Default
Job Workflow Icon Now Available
You can now add a job workflow icon to your contact or company records. This allows you to quickly see how many job orders you have with a given record.
If you do not already have a Job order workflow icon, you can add it by going to System Settings and searching for the corresponding workflow.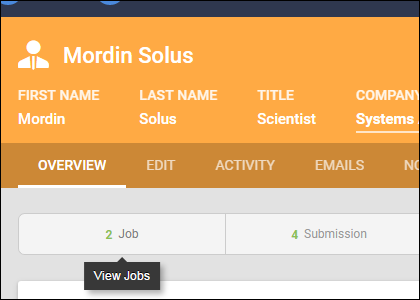 Additional Details Cards
Job records now have additional contact and company detail cards allowing you to display related information on the Job record itself. The contact record has been updated to add a company detail card as well.
Printing Option Available
A print button has been added to Bullhorn Novo. This print option will only be available to users who have the appropriate entitlements.
Note: Cards that appear in the right side column of a record will be moved to the bottom of the record when printing. This is to ensure the entire contents of the card is visible when printing.
Drag and Drop Keywords Issue
An issue has been identified where dragging and dropping keywords in the advanced search did not behave as expected. This issue has been resolved and you can now drag and drop keywords.
Categories and Overview Cards
An issue has been identified where displaying categories on an Overview card would result in only one category displaying, regardless of how many were attached to the record. This has been resolved and all categories will now display.
Skills and Overview Cards
An issue has been identified where Skills listed on overview cards would display a number rather than listing out the actual Skills. Cards will now display the actual Skill names and will display up to 5 skills. If the record has more than 5 skills, an option will appear to view more skills.
Inline Edit Submission Statuses
You can now quickly update Submission statuses or move stages from within the Submissions tab.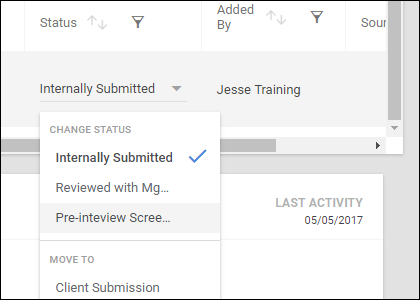 Toggle Submission View
Bullhorn Novo has a new Submission tab that lets you clearly see what the current stage is for each Submission. In response to popular demand, we have added an "all submissions" toggle switch to the Submissions tab within records.
Setting the button to All will convert the way Submissions display to show all submissions in a single list view rather than separating the Submissions into their current stages.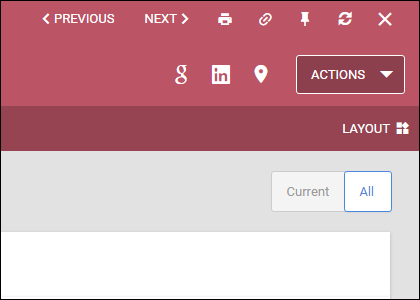 Edit From Record Overview
You can now quickly update important drop down menus from the record overview.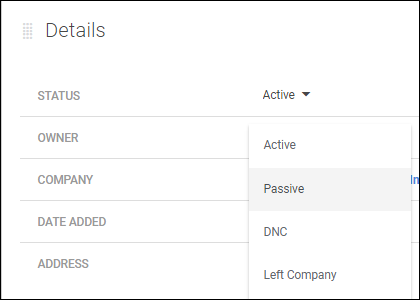 Preview Resumes from Job Submission Tab
Back by popular demand, we have added a resume preview button to the Job Submissions tab. Now you can quickly review a submitted candidate's resume without leaving the job record. Just click the binoculars next to the Candidate's name.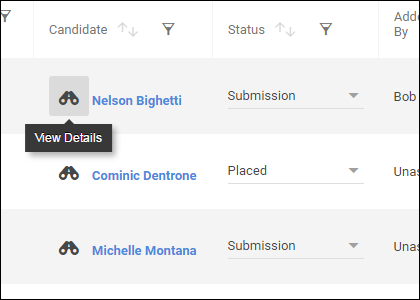 Last Note Column Added To Contact Tab on Company Record
If you're working from the company record and you're checking out your contacts you can now sort and filter them by the date of the last note added to those contacts.
Record ID Now Appears In Bowling Alley Tab
Have multiple records open with the same name? No more wondering which job is which. To help you keep organized we added the record ID to the tab in the bowling alley.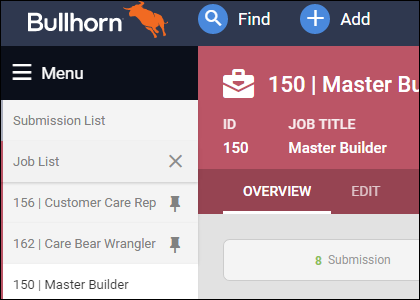 Upload Multiple Files At Once
You can now drag and drop multiple files into Bullhorn Novo to attach to records.
Standard Resumes Now Available!
The Candidate Standard Resume feature is now available in Bullhorn Novo.
Copying Text Within Cards
Need to copy some text off your record overview? You can now highlight and copy text on all cards.
Editor Updates
The text editor for fields that allow text formatting has been updated.
Horizontal lines can now be inserted.
Uploading an image now available.
Confirmed and Rejected Submission Statuses List View Enhancement
The submission status when filtering, in-line editing, and mass updating via the Submission list view now incorporates the rejected and confirmed submission buckets.
Note: The Rejected and Confirmed Submission buckets must be set up via your System Settings. Check out this article if you'd like to set up these buckets.
Login Issue
An issue has been identified where if the user closes out a browser tab with Bullhorn Novo and then logs in again in the same browser, they would be prevented from logging in. This issue has been resolved and users will be able to login without issue.
Adding Appointments Does Not Allow You To Set a Time
An issue has been identified where upon adding an appointment you are unable to select a start or end time for the appointment. There are also fields that appear that are not relevant to setting the appointment. This issue has been resolved and you will be able to set appointment times as expected.
Adding a Job from Contact Record Doesn't Populate Address
An issue has been identified where upon adding a job from the contact record, the address for the job is not automatically populating with the contact's address. This issue has been resolved and the job record generated will populate an address as expected.
Editor Spell Checker "Sticky" Setting Not Being Respected
An issue has been identified wherein using the spell checker inside editor fields requires you to enable the spell checker every time you open a new window. This issue has been resolved and the spell checker will be enabled across multiple pages.
Note: This only impacts spell checking within editor fields that allow you to change the formatting of your text. Any fields outside the editor use your web browser's built-in spell checker.
File Download Error
An issue has been identified where upon attempting to download a file with special characters in the filename users receive an invalid response error. This issue has been resolved and files will download as expected.