Month:
July 2022
Product update notes, links, and descriptions.
Bullhorn One
Time & Expense
Improve Tabbing Order in GTS: Weekly Only
We enhanced the tabbing order for weekly group time sheets to flow from the one-time entry box to the next in order to make time entry faster and easier.
Bullhorn One
Time & Expense
Per diems Auto-approving in Exchange
We resolved an issue where per diems were not auto-approving in Exchange if the VMS file was first uploaded as pending approval and then subsequently uploaded as approved. With this fix, all of the transactions will still need to be approved for the per diems on the timecard to be auto-approved.
Bullhorn One
Time & Expense
Automatically Populate the BH Worked Code in GTS
We enhanced group time sheets for Bullhorn One to ensure the earn code used for worked hours entry appears at the top of the selectable codes list.
Configurability of Rate Card Calculations
Pay & Bill admins can now configure the rate card calculations based on Markup through a new Pay & Bill setting for "Edit Markup Calculates Bill Rate ."The following two options are available:
Editing Markup calculates Bill Rate using Pay Rate (default behavior today)

Editing Markup calculates Pay Rate using Bill Rate

Placement Rate Card Change Request list
Placement Rate Card Change requests now have a list view. 
This is enabled by Support with a new menu entitlement.
Location:  Menu > Pay & Bill > Placement Rate Card Change Requests
NFAC Earn Code Templates
Earn Code Templates are now available in DataMirror 8 for reporting.
Delete Action for BillingSyncBatchFileAttachments
Pay & Bill users now have the ability to delete Billable Charge attachments. Please contact support to have the entitlement enabled.
VMS Submittal Error Normalization
VMS Sync Submittals now provides user-friendly error messages with actionable resolution instructions.
Fieldglass Submittals
An error related to a Fieldglass update has been resolved.
Stafferlink
An issue was resolved processing req updates.
PageUpPeople
VMS Sync now integrates with PageUpPeople VMS credentials.
Dice Resume Parsing into ATS
The dice resume parsing functionality has been restored.
Submission Status Update on Popup Comment Field
When a user updates a submission from the Submissions List View and selects 'Change Submission Status' the comment field is now available on the pop-up form.
Submission Slide Out Comment Field
The Submission slide out was updated so when adding a Client Submission a user can enter a comment that will be saved and displayed appropriately.
TEL Tags on Records
We resolved an issue where a user would click on a phone number while viewing a candidate/client contact record and would be prompted to leave the Bullhorn application.
Accented Characters In dHTML Fields
An update was made so that accented characters entered within a job or placement record will save and display appropriately.
Novo
S-Release
ATS & CRM
Bullhorn One
Publish to SEEK
We have enhanced our APAC market's SEEK job board offering, including the following enhancements and features:
New and improved modern form redesign

Dynamic Ad Pricing based on job location and category

Job Specific Questionnaires

Support for the latest SEEK APIs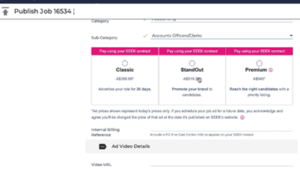 Novo
S-Release
ATS & CRM
Bullhorn One
InMail New Candidate Creation
An issue was resolved with the LinkedIn RSC (Recruiter System Connect) integration. LinkedIn InMails will now create new candidates and add a note to the candidate profile.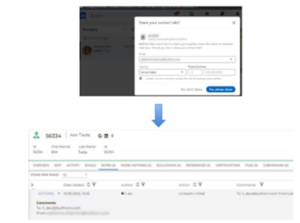 Novo
S-Release
ATS & CRM
Bullhorn One
Data Loader – Additional Entities and Fields
Data Loader has added these additional entities for users to upload and download:
General Ledger Segment 1-5 / General Ledger Service Code 

Person Custom Objects 11-25